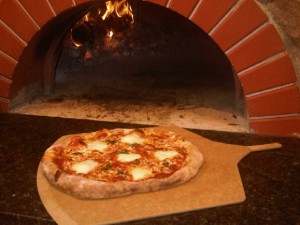 As Saturday night was approaching, my family was trying to figure out what to do for dinner.  About the only thing that we could agree to make for dinner was "reservations". Since we needed to find some fabric for a costume for a musical production, we decided to head into town for dinner.
Logan Utah is an interesting collection of local restaurants and national chains. The local places can be hit or miss on the quality, depending on the staff working that evening. The national chains tend to be more consistent, but lacking the fresh taste and textures of locally prepared food.
After an aborted attempt to dine at Olive Garden (too long of a wait), we found ourselves at Jack's Wood Fired Oven. It is a small restaurant located at 256 N Main, Logan. Jack's has a Mugnaini wood fired oven as the main focus of their establishment. The owners, Jack and Julie Carlisle, obviously have a passion for quality pizza. They use locally milled organic flour as a basis for their dough. The cheese is much more than stretchy white goo. It has something that other pizza places seem to lack. It has flavor!
Jack's Wood Fired Oven doesn't have much in the way of ambiance. Paper plates and bench seating is the rule of the day. The pizzaria is clean and casual. The music is just nice and quiet and in the background. The place just feels like family. My family has a new favorite pizza place!
Jack's Wood Fired Oven is located at:
256 North Main
Logan Utah 84321
435-754-7523