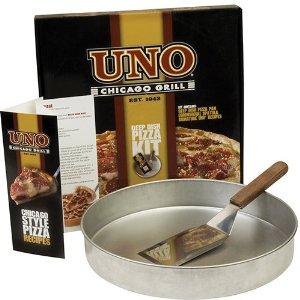 It is no secret that my family likes pizza. A little while ago my family took a cooking class at the local kitchen store.  It was on making deep dish pizza at home.  Over the weekend we made some.  I thought it was very good.  My daughters were suffering from a little bit of carb overload.
I would like to see how the pizza cooks in a wood fired oven.  I think that with a little intense oven you would end up with a little more loft in the crust and a crisper crust as well.
Over all, I would make this style of pizza again.
The instructor, Lindsey Owens, gave a couple of recipes to start with.  Here they are:
---
Lindsey's Deep Dish Pizza Crust
Ingredients
1 Tablespoon SAF instant yeast
1-1/4 cups warm water
1 teaspoon sugar
1 teaspoon salt
1/4 cup olive oil
1/2 cup cornmeal
3-1/4 cups bread flour (approximately)
Directions
In the bowl of your mixer (or a mixing bowl) place the yeast, water, sugar, olive oil and cornmeal. Begin mixing at a low speed.  Slowly add in 2 cups of flour followed by the salt.  Add in as much of the remaining flour as needed to produce a soft, springy dough.  Knead for a couple of minutes. Allow it to rise until doubled in bulk at least once.
Makes 1 pizza crust.
Preheat the oven to 425 degrees F.  Grease you deep dish pizza pan with 1 tablespoon olive oil and press the crust into the pan.  Top as desired. Bake for 25-30 minutes.
Toppings
The toppings for your deep dish pizza can be anything you want.  Because of the high temperature and the long baking time, cheese does not do well at the top of the pizza.  With deep dish pizza, the cheese should go on first, right on the dough.  Next, put down and meats and vegetables that you want and follow that up with the sauce.
Pepperoni Pizza – Cheese, pepperoni and red pizza sauce
Chicken Alfredo – Cheese, shredded chicken, baby spinach, thin roma tomato slices, white pizza sauce
BBQ Chicken – Cheese, shredded chicken, bacon crumbles, caramelized onions and BBQ sauce
Chicken Cordon Bleu – Cheese,shredded chicken, canadian bacon, bacon crumbles, thinly sliced green onions, white pizza sauce
Carnivore – Cheese, meat, meat & more meat, red pizza sauce
---
Pantry Red Pizza Sauce
1 – 8oz can of tomato sauce
1 teaspoon garlic powder
1/2 teaspoon onion powder
1/2 teaspoon dried oregano
1/2 teaspoon dried basil
1/4 teaspoon salt
fresh cracked black pepper, to taste
pinch (or more) red pepper flakes
Mix all ingredients together. Makes enough sauce for 1 pizza.
---
White Pizza Sauce
1 tablespoon butter
2 cloves minced (or grated) garlic
1 tablespoon flour
white pepper
1 chicken bullion cube or 1/2 teaspoon bullion granules
1 cup milk (at least 2%)
1/2 cup freshly grated parmesan cheese
(depending on your application, you can also stir in 1 tablespoon basil pesto)
Saute the garlic in the butter. Add the flour and cook for about 1 minute. Combine the milk and the chicken bullion. Add it to the butter/flour mixture. Stirring constantly, let cook until thick and bubbly.  Stir in parmesan cheese and pesto (if desired).  Makes enough sauce for 1 pizza.