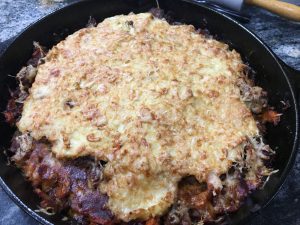 Shepard's pie is a dish normally prepared with ground lamb. A cottage pie is prepared with ground beef in place of the lamb. The meat is combined with a tomato sauce and vegetables, then topped with mashed potatoes and possibly some cheese. Very much a comfort food.
I had recently started eating a low carbohydrate diet (low carb) for weight loss and to reduce my blood sugar levels. I found a recipe that is the basis for this dish. Instead of mashed potatoes, this recipe uses mashed cauliflower instead. To keep the fat levels down, I used ground bison for the meat.
Ingredients:
For the topping:
1 head of cauliflower
2 oz grated Parmesan cheese
garlic powder to taste
For the filling:
2 lbs ground bison
1 Tablespoon olive oil
1 large onion
4 carrots
1 can (28 oz) diced tomatoes
3 Tablespoons A-1 Sauce
2 Tablespoons dark soy sauce
Salt and pepper to taste
Directions:
Preheat oven to 400° F or 375° F on convection bake.
For the topping: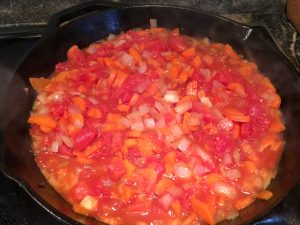 Cut the cauliflower into one inch chunks. Steam until very tender. I cooked this in the microwave for 10 to 14 minutes. Blend in the food processor with the garlic powder until smooth. Set aside until the filling is ready to top.
For the filling:
In a pan that can go into the oven, break apart the bison and cook until browned. Transfer bison to bowl to hold. Add the olive oil to the pan along with the onions and carrots. Saute until the vegetables start to become tender. Add the diced tomatoes and cook until the tomatoes have reduced the liquid. The carrots should not be crunchy at this point. Add the meat and combine with the other seasonings.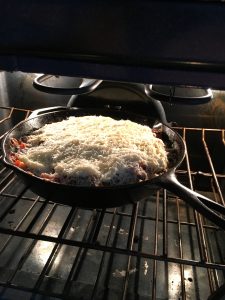 Into the oven:
Carefully spread the mashed cauliflower on top of the filling. Top the dish with the grated Parmesan cheese. Bake in the oven for 20 minutes until the filling is bubbling and the cheese has browned. If needed turn on the broiler to brown the top.
Serves 5 to 6
Enjoy!