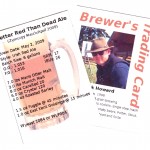 The other day my wife was showing me some new pieces of art that she had made.  They were little 2.5 inch by 3.5 inch cards that she made.  She called them Artist Trading Cards (ATC).  These are small pieces of art that an artist would trade with other artists.
I thought that these were pretty cool.  I am not an artist, or at least not much of one, but I was wondering what I could do for an ATC.  My wife suggested that maybe I would make some ATCs for my next brewing session with my brew club.  That was a pretty good idea in my mind.  So I sat down and designed my first Brewer's Trading Card (BTC).
My first BTC is for an Irish Red Ale that I am going to be brewing for National Home Brew Day 2009.
I started with the Artist's Trading Card template for Photoshop (atcpsd.zip). I then modified it so that I could use it with GIMP (btc_blank.xcf).  My first Brewer's Trading Card was made using GIMP.
What Are They Good For?
When I take my home brew to a club meeting, I take a handful of Brewer's Trading Cards. When someone samples a beer, they are offered a BTC as well. It helps them remember what the beer is and how it is made. I think that it helps the brewers in the group identify flavors and where they come from. If you have brewed a really good beer, the BTC helps you brag it up a bit.