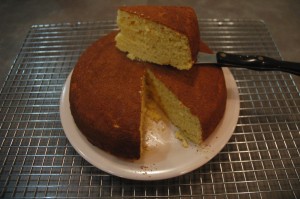 I love my daughters, but they drive me crazy. Nothing in the kitchen seems to end up where I think it should be.
My wife asked me to bake something over the weekend.  I decided to make her Corn Bread From Scratch recipe. As I started working in the kitchen, I couldn't find the measuring cups that I needed for the recipe. "Honey, where is the 2/3 cup measure? I can't find it."  Blast!
So, my wife says "Why don't you make it by weight?"  Other than it is going to be a pain in the patootie to convert, that is a great idea. After searching the kitchen, the various flour and sugar bins in the pantry and still coming up with nothing, a conversion was in order.
Using a 3/4 cup measure I weigh out measures of sugar, flour and cornmeal. Using these starting weights, the recipe amounts are calculated. The butter is calculated from the nutritional information panel.  The small amounts of salt and baking powder are weighed directly.  The fluids are measured and converted.
The following is that converted recipe.
Northern Style Cornbread, By Weight
Ingredients
150 grams sugar
7 grams salt
75 grams butter or margarine
10 milliliters vanilla extract
2 large eggs
285 grams flour
135 grams cornmeal
15 grams baking powder (double acting)
325 milliliters milk
Directions
Preheat oven to 400°F. If using a cast iron skillet, preheat the skillet as well.
Combine the sugar, salt, butter and vanilla extract in a mixing bowl until creamy.
Add the eggs one at a time, beating well after each addition.
In a separate bowl combine the flour, cornmeal and baking powder.
Add the egg mixture to the dry mixture and stir lightly with a spoon.
Add the milk and mix with a spoon until just blended.
Pour into heated, greased skillet or 8×8 inch pan.
Bake for 20 to 25 minutes or until toothpick comes clean.
Turn out of pan or skillet and serve warm.