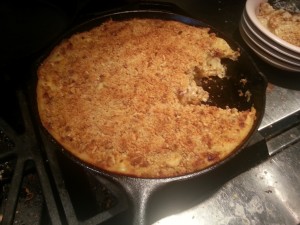 I was talking with my youngest daughter about comfort foods that she found while she was living in China. While we were talking about that it reminded me of a favorite comfort food.  Macaroni and Cheese.  Many times we find ourselves reaching for the blue box.  I was wanting something like that, but maybe a little more homemade and more attention to the details.
I remembered a Macaroni and Cheese recipe that I found on the Reddit cast-iron forum.  One of the features of this dish is that it is baked in a cast-iron pan to help the dish develop a crisp crust on the bottom and sides.  This crisp crust contrasts nicely with the tender pasta and the creamy sauce.
Ingredients:
1 lb macaroni, cooked and drained
1/2 stick of butter
4 Tablespoons flour
3 cups milk
1/3 cup pre-cooked bacon bits
1 Tablespoon onion powder
1 cup parmesan cheese
8 to 10 ounces medium cheddar cheese, grated
dried breadcrumbs
While cooking the macaroni, make the cheese sauce.  In a medium saucepan melt the butter and add the butter to form a roux.  Cook over a medium heat until the flour begins to turn to a golden brown.  Slowly whisk in the milk and cook over a medium heat.  Add the onion powder and cook until the mixture begins to thicken.  Add the bacon bits, 1/2 of the parmesan cheese and the grated cheddar cheese and mix until melted and combined.  Grease a cast-iron skillet and pour the drained pasta into the pan.  Mix the cheese sauce into the pasta and top with a mixture of breadcrumbs and parmesan cheese.  Bake in a 400° F oven for 30 minutes or until the top and edges have started to crisp.  Remove from the oven and let stand for 5 minutes before serving.