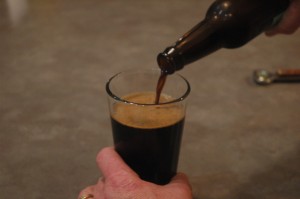 This recipe has brewed for the 2009 National Teach-A-Friend-To-Brew Day.  I like malt forward beers.  This beer is a big malty beers with lots of mouthfeel and a bit a residual sweetness.  It comes across as having chocolate and coffee notes with some caramel.  The fermentation leaves some fruit notes like plum.  Not much head retention at this point, but that may change as the beer conditions. This recipe is from Brewing Classic Styles by Zamil Zainasheff & John Palmer.
Brew Date: November 7, 2009
Style: Milk Stout (Sweet Stout)
Batch Size: 6 gallons
O.G.: 15.4 °P (1.063)
F.G.: 6.1 °P (1.024)
Alcohol: 4.8% ABV
Grain Bill
10.0 lbs British pale ale malt
1.0 lb Black Patent malt (525 °L)
0.75 lbs Crystal malt (80 °L)
0.5 lbs Chocolate malt (250 °L)
1.0 lb Lactose Powder
Hops
1.5 oz Kent Goldings 5% AA, 60 minutes
Yeast
Wyeast 1099 Whitbread Ale
Notes
Mashed at 149° F for 60 minutes.
Pre-boil gravity 12.6 °P.
60 minute boil.
Fermented at 65 °F (a little warmer might be good).
Carbonated to 1.5 to 2 volumes CO2.