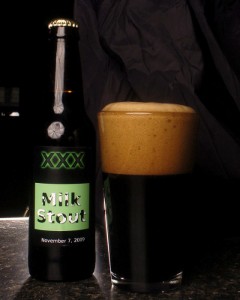 The results are back from the home brewing competition that the Bridger Brew Crew hosted. I sent in two beers.  Both beers made it into the Best of Show round.  My milk stout (or sweet stout) was selected as the Best of Show.
I am way stoked about this. The grand prize for the Best of Show winner is that my beer will be sent on to the American Homebrewers Association's (AHA) National Homebrew Competition. I had thought about entering the NHC one of these years, but I wanted to get some other experience in competion. Well, I guess that for NHC 2010, I will have one entry.
The competion in the NHC is quite stiff.  There were over 5,000 entries in 2009.  A beer really needs to be flawless to stand out in that crowd. Moving through the first round of the NHC with a single entry is going to be like hitting a jackpot on your first try. It might happen, but it is not very likely.
A big thanks to the Bridger Brew Crew for running this competition. Also thanks to my assistant brewer and daughter, Andee.
Out of the 28 entries, 6 beers made it to the Best of Show round:

Dan Drinan, Rocky Raccoon (1A) Light American Lager
Shawn Scott, Polski Pivo (2A) German Pilsner
Dirk and Andee Howard, Better Red than Dead (9D) Irish Red Ale
Duane Kameman, Wrench Bender (12B) Robust Porter
Dirk and Andee Howard, Triple-X Milk Stout (13B) Sweet Stout
Brandt Winkelman, Bourbon Stout (22C) Wood-Aged Beer

And the BOS winner is:
Dirk and Andee Howard, Triple-X Milk Stout (13B) Sweet Stout

Congratulations to Dirk and Andee!

First runner up:
Duane Kameman, Wrench Bender (12B) Robust Porter

Second runner up:
Dan Drinan, Rocky Raccoon (1A) Light American Lager