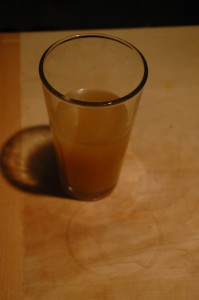 I am planning on making a sour beer for my next brew session.  I wanted to see how things might work if I did a sour mash. This is my first attempt.
I started with 16 oz of Maris Otter Pale Malt. I crushed the malt as I normally would and saved 1 oz of the crushed malt as the inoculating grain.
I heated 1.75 quarts of water to 151°F and put that into my 1 gallon cooler. I then added the 15 oz of crushed malt to the water. My temperature for this mini-mash was 146ºF. Fifteen minutes after dough in, I checked the pH which came in at 5.7 with a temperature of 143ºF.
Once the temperature dropped to 115ºF (about 4 hours), I added the 1 oz of inoculating grain. At this time the mash smelled sweet, just like normal. I then set this aside for 36 hours.
After  36 hours the mash had a funky sour smell to it. The pH measured in at 4.0. The taste of the wort was quite different from what the smell would indicate. One of my kids suggested that it smelled like "bat barf".  There was still a sweetness from the malt, but there was a definite sour that was bright, like a lemonade from under-ripe lemons.
After 50 hours the pH had dropped to 3.9.  The smell of it was a little off putting, but the taste was pretty decent. For a Berliner Weisse I would think that sour mashing about 40% to 50% of the entire grist would be appropriate.