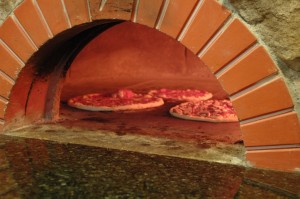 Last week our company went to Jack's Wood Fired Oven for dinner. The excuse was to celebrate the March birthdays. It was quite a sight to see everyone from work fill up this little pizzeria on Main Street. I think that our company family filled nearly every booth at Jack's at one point during the evening. I think that everyone enjoyed their food, I know that I did.
Towards the end of our visit, one of my daughters had a bit of a sweet tooth. She asked if she could have dessert. Jack and Julie had a new apple pizza dessert that sounded good, so we ordered one. I am not normally much on sweet pizza. It brings up images of fruit pizza at my grandma's (sugar cookie crust, cream cheese frosting, topped with strawberries and bananas), or the fruit pizza at the Pizza Hut buffet. Dessert pizza would send me for a pitcher of water to clear my palate.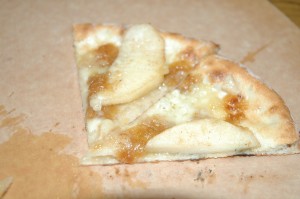 Jack and Julie's apple pizza was a different experience. It was focused on the apple and not the sugar. Once again their crust is the star of the show with the toppings taking a supporting role. The crust was crisp and chewy, just like good pizza should be. The apple was tender crisp with a slight tartness. There is a buttery flavor and just enough cinnamon and sugar to balance out the tart apple. Worth the extra calories. My girls want to name it the "Apple of My Eye Pie". What ever you call it, it is tasty.